LUM-CARCD-TRAY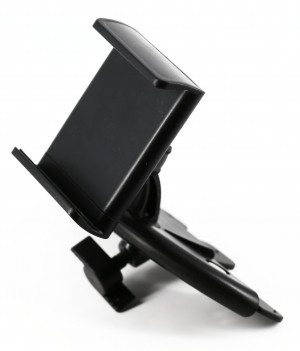 Universal Car Mount is ergonomically designed to install easily and quickly and is a great tool that works with any smartphones or navigation devices with 3.5″ – 6.3″ display or width up to 3.54 inches / 90mm.
One-Stop Locking Solution 
Fits into the compact disc slot of your car with one-stop locking solution. It comes with three different sub pads to ensure that the mount fits into any disc slot and stays in place without damaging the insert. You can use the mount and play CD simultaneously, without any interruption.
Easy Slide Mechanism 
Easy slide mechanism that allows easy mounting and releasing of the device. Just slide your device to the extendable spring holder and it will secure your device without any struggle.
Extendable Spring Holder 
Spring loaded and stretches out to 3.54 inches / 90mm when fully extended. It will hold your device securely without scratches or damages. It is safe to use with or without the device's skin or case.
Adjustable Mount 
Fully adjustable. The mount has a fully rotatable holster that twists and turns so you can view your device vertically or horizontally. An adjustable 60 degree neck that allows you to adjust the mount to your preferred angle.
NOTE: The mount needs to be removed to insert or remove CD from the disc player.
Features:
Secured locking solution disc mount with different sub pads
Easy-slide mechanism allows user to mount or remove holder
Safe and secure grip spring holder increases grip and protects device's finish
Adjustable and multi-angle rotation allows viewing at multiple angles – vertically or horizontally
Compact design easily adjusts to the widths of smartphone or navigation devices up to width 3.54 inches / 90mm
Compatibility:
Smartphones with 3.5″ – 6.3″ screen size display
Smartphone or navigation devices up to width 3.54 inches / 90mm
Popular devices: 
Samsung Galaxy Note 4 / Note 3 / Note 2
Samsung Galaxy S5 / S4 Active / S4 / S3
Apple iPhone 6/6 Plus/5/5S/5C/4/4S
HTC One (M8) / One (M7)
Motorola Moto E / Moto G / Moto X
LG G3 / G2 / G Pro 2 / G Flex / Google Nexus 5